Westside Workforce Center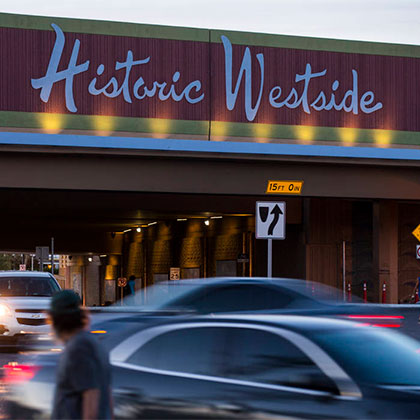 Westside Workforce Center
Building the "Future Workforce"
Cedric's tireless advocacy led to the acquisition of $11 million for the Westside's first-of-its-kind advanced skills training center. The Westside Workforce Center will serve as the catalyst for training the Future Workforce in advanced manufacturing and other lucrative careers. These great jobs will allow residents, who have faced the most dire circumstances in their lives due to Covid, to reemerge with the opportunity to truly live the American Dream.
Phase One of our workforce initiatives have already begun with the opening of the Strong Future Technology Center, powered by the Cox Innovation Lab, which is training community members for high-paying positions in the technology sector.
The Westside Workforce Center and Strong Future Technology Center are just the start of Cedric's comprehensive plan to diversify and strengthen Las Vegas' economy. This has been an aspiration of the City Council ever since the 1980's, but now it's really happening. Cedric will not rest until the ultimate goal is achieved -- and Las Vegas takes its rightful place as America's greatest city in which to live and raise a family.
More Info on Westside Workforce Center
The goal of Ward 5 Works is to increase economic mobility for low-income and/or less educated workers through employer partnerships and career pathways within targeted high demand sectors. Residents should be afforded access to good jobs that pay family-sustaining wages, including healthcare and retirement benefits and offer opportunities for advancement.